At least 3 of the crew members of my dad's B‑17 were held eventually at Stalag 17B. They were: my dad, TSgt Harold E. Penoyer, Radio Operator and Left Waist Gunner; TSgt William I. Craton, Engineer and Top Turret Gunner; and, SSgt Harold A. Yorton, Tail Gunner.
What was life like for an American POW? Stalag 17B held Air Corps NCOs and was the POW camp featured in the movie Stalag 17 (1953) starring William Holden. The following sites offer accounts of life at the camp.
This is a site that offers a vivid description of life in Stalag 17B, with photographs:
http://www.b24.net/powStalag17.htm
Here is another interesting site:
http://www.americainwwii.com/stories/stalag17b.html
Finally, here is a third site that refers to Stalag 17B. It's interesting to note that this page includes an image of my dad's Registration of RAMP, undoubtedly taken from bobpenoyer.com. You can find an interesting description of Stalag 17B at this site by clicking on its Prisoners menu:
http://www.stalag17b.com/lucky_strike.html
This is a reconnaissance photograph of the famous Stalag 17B. The camp was located a short distance northeast of the small village of Gneixendorf, or about 4.5 km north of the town of Krems (Krems an der Donau, Krems on the Danube, in German) and the Danube River.
Notice a hand-drawn arrow near the middle of the right side indicating North. Also notice the number "37" identifying one of the barracks. Having studied the image and compared it with satellite images from Google Earth, I am convinced that the center of the barracks area was located at coordinates 48°26'44.44"N, 15°38'5.68"E. You can load these coordinates into Google Earth or locate them on another map.
Today the coordinates identified here are near the center of a small airfield, Krems-Langenlois Airport, located roughly 4.5 km north of Krems, Austria.
Here is a link to that location in the web-based Google Earth that works only in the Chrome browser at the present time. Try it only if Chrome is your default browser: Chrome is my default browser. The link takes a few seconds to load and take you to the location. The given coordinates will be located at the center of your screen. Zoom out a little bit to get a better understanding of the lay of the land.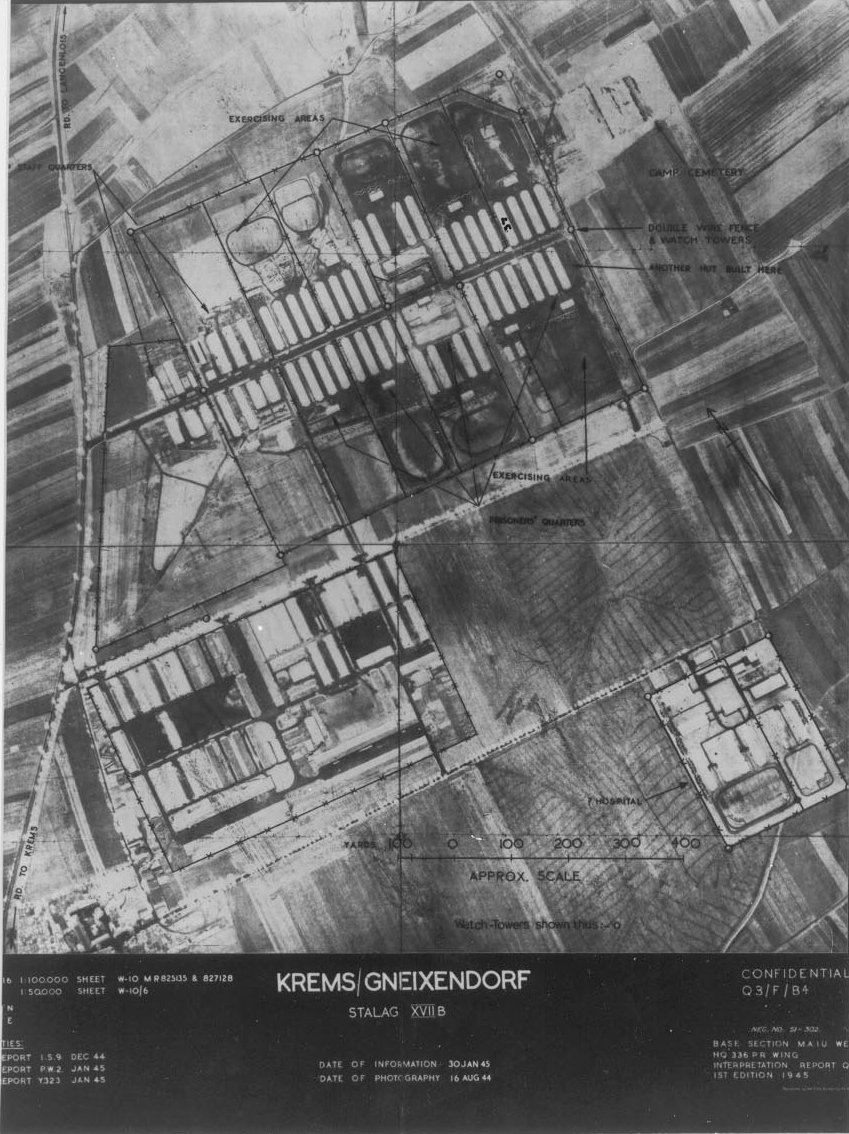 Virtually nothing of Stalag 17B remains today. But it has been remembered by markers placed at the site. Four steel panels have been erected to mark the four corners of the camp. Another is located near the entrance to the Krems-Gneixendorf Airport. That panel has the word REMEMBER cut into it in the 12 languages of the prisoners who were held there. Click here for more information.
Finally, click here for a site in German with pictures of the panels. Google Chrome and perhaps some other browsers can translate the page for you.
A Map of Other POW Camps
This is a map of German prison camps. Unfortunately, it was produced from a photocopy so that it's not as crisp as you might like. However, it is relatively readable for those who are interested in the details of its contents. Simply click on the image.