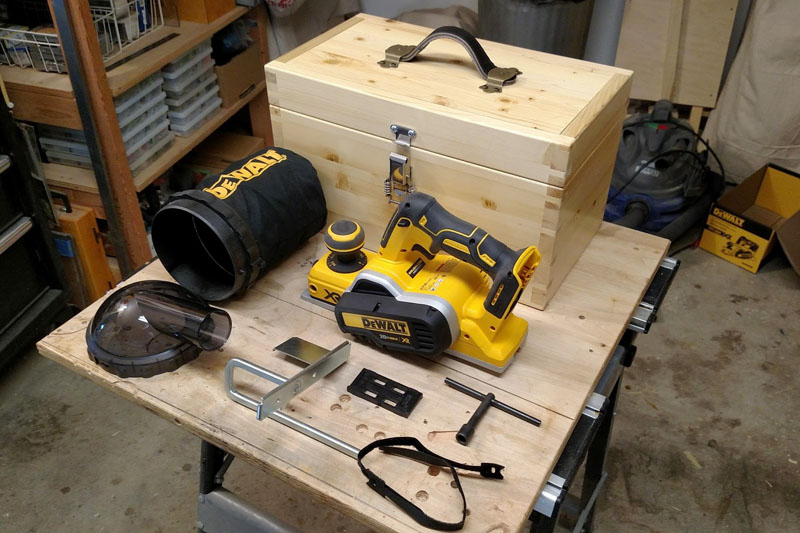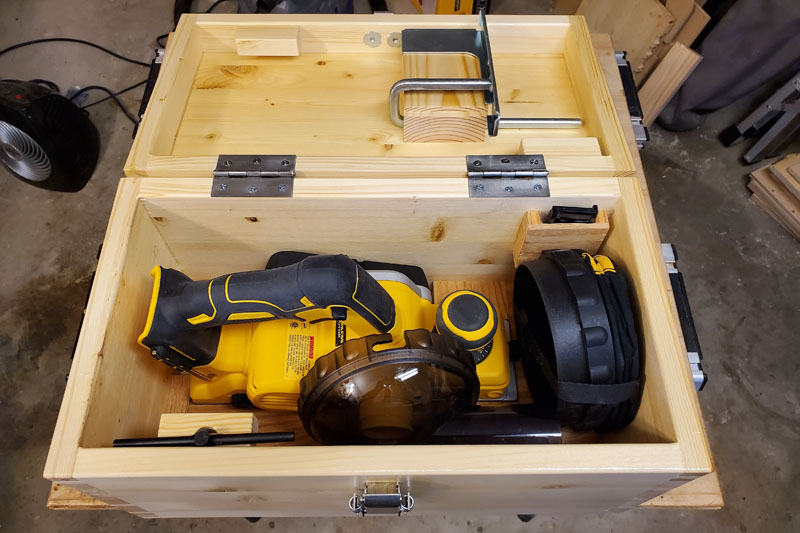 The Storage Box provides a convenient way to store, transport, and access all of the components of the DeWalt DCP580 Brushless Planer. All of the planer's components are stored conveniently, efficiently, and securely in a box that measures 16 3/4" L x 9 1/4" W x 9 9/16" H.
The box protects all of the planer's accessories. Its convenient carrying handle permits easy transport to wherever you're working.
Some of the Box's Features
Attractive Dovetail Joinery
The Top and Bottom are captured in dados
The design ensures that the planer is held securely
The Box is assembled as a simple, 6-sided box, and then the top is removed using a table saw
Glue: Titebond II or equivalent
Finish: Clear shellac (or your choice of finish)
Some Pictures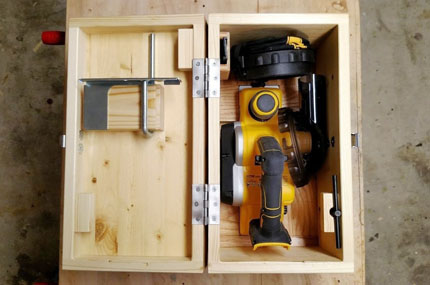 Top View with All Pieces in Place
All of the items are in place in this view. Most items are in the main part of the box at the right, including the Planer, Blade Guide, Dust Bag, Dust Bag Deflector, and the T-wrench.
One item is stowed in the top of the box at the left. This is the Rabbet Guide. The metal Rabbet Guide is secured by a magnet below the Rabbet Guide that can't be seen here, and by a dado that holds the long shaft.
Top View Showing Structure
Pieces of 1/2" and 1/4" plywood are arranged on the bottom of the box. These form a place for the shoe of the Planer so that the Plane is constricted from moving side to side. The top of the box prevents the Planer from moving vertically.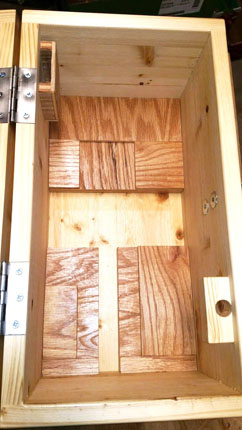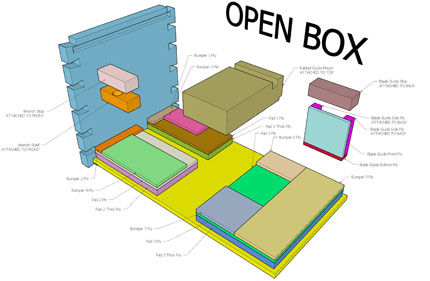 Design Drawing of Internal Pieces
This image shows a page from the design drawing (the SketchUp and PDF files that are part of the downloadable ZIP file.) Details in the design drawing show the size and location of each item.
The Rabbet Guide Mount
The Rabbet Guide is stowed on this block. The rare earth magnet is embedded in the top, held in place with epoxy. The magnet holds the metal plate of the Rabbet Guide. The dado at the bottom secures the long shaft of the Rabbet Guide.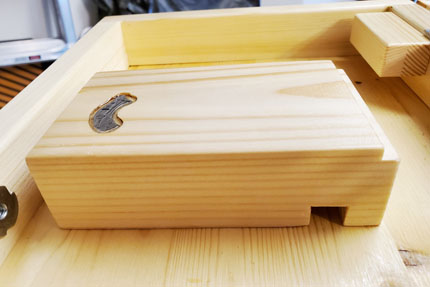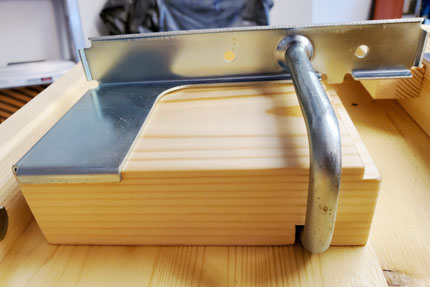 The Rabbet Guide Stowed on the Mount
The magnet secures the plate. The dado secures the shaft.
Download Free Plans, Pictures, and Instructions
The ZIP file contains Instruction file "INSTRUCTIONS.pdf", pictures, SketchUp design file "Planer_Box_15_SKETCHUP_VERSION_8.skp", and PDF design file "Planer_Box_15_SKETCHUP_VERSION_8.pdf". The PDF file contains all of the drawings and dimensional information that are in the SKP file for those who don't use SketchUp. The Instruction file also contains links for the handle, pinned loops (they secure the handle to the box,) and the latch hardware: