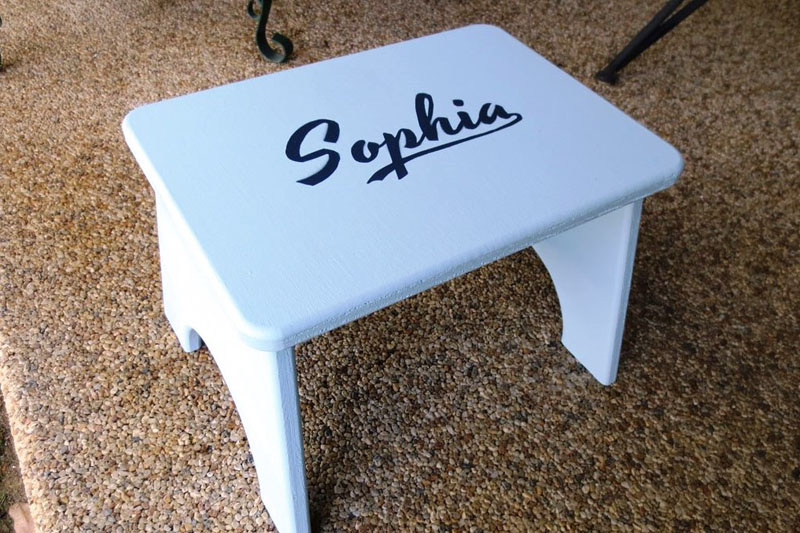 This is a great little project! The stool comprises only 4 pieces, all made from 3/4" plywood. It's plenty strong to support a child. You can give your child, grandchild, niece, or nephew something that's their very own. You might even personalize it as in the top picture. It won't take much work on your part but they'll be so happy.
The free downloadable pictures, plans, and instructions show you how to get the job done.
Some of the Features
Made of 3/4" plywood
Only 4 parts—2 of the parts (the legs) are identical
Simple pocket screw joinery
Rounded-over edges and rounded corners help to make the stool safer
Height: 10 1/8"
Top: 14" x 10"
Footprint: 14 1/4" x 12" — Bigger than the top to reduce the chance of tipping
The picture below uses vertical lines in two views to show how the footprint is bigger than the top. This feature enhances the safety of the stool.

Download the Free Plans, Pictures, and Instructions
The ZIP file contains all of the pictures, INSTRUCTIONS.PDF, SketchUp design file "Child's_Stool_06_SKETCHUP_VERSION_8.skp", and PDF design file "Child's_Stool_06_SKETCHUP_VERSION_8.pdf". The PDF file includes all of the SketchUp drawings and dimensions for people who don't have or use SketchUp: