The Bat Rack—"As Built" and "In Use"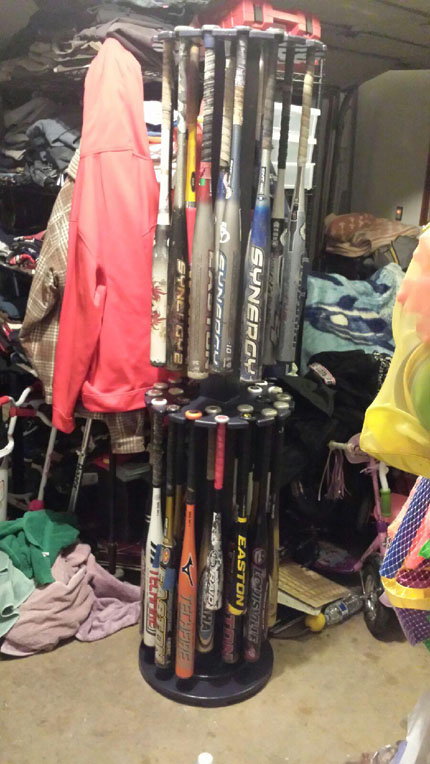 If you play a lot of ball, either baseball or softball, and you've collected a lot of bats, this rack can be exactly what you need for storage.
It takes up very little floor space. Just an 18-inch diameter circle is all that's needed to store up to 48 bats.
The rack comprises a round base 18 inches in diameter with 5 wood feet, a 4x4 post, and two 18-inch disks that hold up to 24 bats each. Its total height is 75 1/2 inches.
It's Strong
When it's holding 48 bats, the rack has to support a load of roughly 100 pounds. So it was made to be strong. Two layers of 3/4-inch plywood, with 5 plywood feet extending beneath both layers make the base sturdy. The base is attached to the 4x4 post using a 1/2" x 8" lag bolt.
The top bat support disk is secured on top of the post and held in place by a 1/2" x 8" lag bolt.
The 4x4 post passes through a square hole in the bottom bat support disk. That disk is supported below by hardwood that's locked into a mortise cut all the way around the post.
Some of the Construction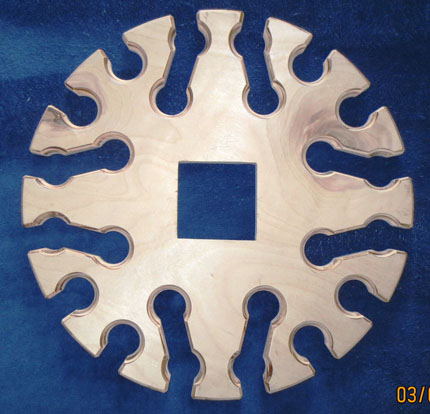 The Bottom Bat Support Disk
The downloadable instructions provide a simple method for recreating the hole pattern and channel cuts.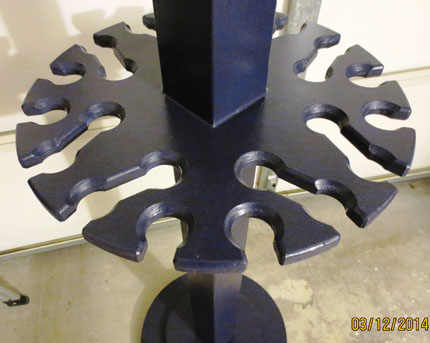 Strong Support for the Bottom Bat Disk
BELOW: A mortise is cut to accept pieces of hardwood that support the bottom bat support disk.
RIGHT: Pieces of hardwood secured in the mortise and supporting the bottom bat disk.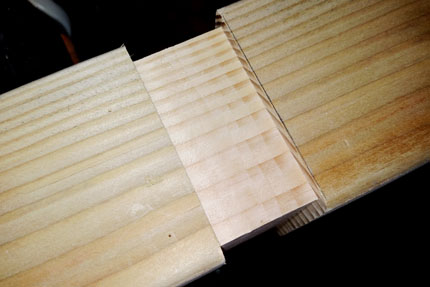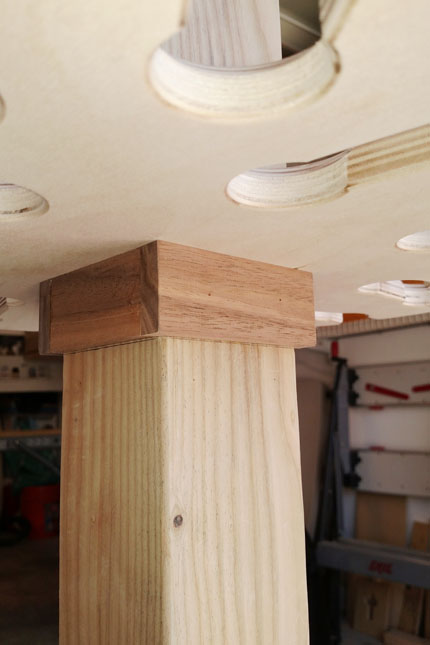 Maybe you can use the ideas and information provided here and in the download file to build your own version of the Baseball Bat Rack. If you think you might want to build it, BE SURE TO READ THE "INSTRUCTIONS.PDF" FILE that's included in the ZIP file.
The ZIP file contains all of the pictures, INSTRUCTIONS.PDF, SketchUp design file "Bat_Rack_07_SKETCHUP_VERSION_8.skp", and PDF design file "Bat_Rack_07_SKETCHUP_VERSION_8.pdf":