3 Ways to Get SketchUp
Your 3 Best Choices
SketchUp Free (slimmed down, web only), Shop (yearly paid subscription, web only), Pro (yearly paid subscription, desktop software):
https://www.sketchup.com/plans-and-pricing#for-personal
---
My Opinions of the Different Versions
I prefer the desktop version of SketchUp, maybe because that's all I've used. The web version is too constricting in my opinion. So, I think the best option is Pro. A second choice is Shop. But you might find that you're completely happy with the Free version.
---
Free SketchUp Viewer
SketchUp Viewer is a free app available from Trimble. The Viewer will allow you to view a SketchUp model the same way you can from inside any version of SketchUp. You can change your position and the type of view. You won't be able to edit and save the model, but you can print the model and use many of the other features of SketchUp:
Introduction to SketchUp
Using SketchUp for Woodworking
SketchUp can become an indispensable tool when your woodworking expands beyond the simplest projects. It makes the design clear so that you can tell if the design makes sense—or if it even looks good—before you build it. It keeps track of dimensions. It can show you when parts don't fit correctly.
SketchUp has two built-in templates dedicated to woodworking. One template uses inches. The other uses millimeters. Just tell SketchUp what you want to use the first time you use it and you're all set. You can change your choice at any time.
SketchUp Isn't Hard to Use!
Learning to use SketchUp might seem daunting at first. After all, it looks very complicated when you open it for the first time. Don't be fooled! It will quickly begin to make sense once you've had some of the features explained to you. This page points you to multiple free sites that explain how to use SketchUp.
Download, Install, and Start SketchUp
Downloading SketchUp
Download SketchUp using one of the options cited in the Your 3 Best Choices section, above. Much of the information that follows on this page applies only to the paid and desktop versions of SketchUp.
Installing SketchUp
Once you've downloaded the installation file, double-click to install it. It should put three icons on your desktop. We will work only with the SketchUp icon.
Starting SketchUp for the First Time
Double-click the SketchUp icon to start it
Sign in to activate your trial or subscription the first time you try to open SketchUp
A Welcome window will appear with a short list of template icons
Click on "More templates" in the upper-right corner
Scroll down in the new list to find Woodworking – Inches or Woodworking – Millimeters
Click the little circle on your preference. This will assign your favorite.
Click on the template image to open SketchUp
If you've never used SketchUp before, this is the place where things might begin to seem overwhelming. Not to worry! Just follow along as described below.
Setting Up SketchUp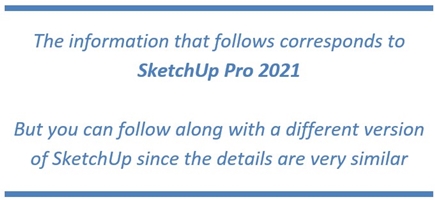 I'm going to explain how I like SketchUp to be set up. You might discover that you have different preferences. But start with what I explain here. This procedure will begin your exposure to the SketchUp environment. And, it will arm you with the ability to select different preferences if you choose to do that later.
Click on the Window menu.
Hover your mouse over Default Tray.
Make sure that

only

these items are selected:
Entity Info
Materials
Components
Tags (used to be Layers in earlier versions of SketchUp)
Scenes
Deselect all other choices
You should now see these items on the right side of the SketchUp window: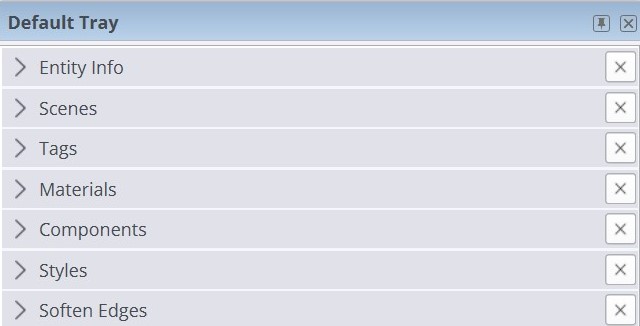 If the items are not in the order shown, click and drag them up or down until they're in this order.
Click on the View menu and be sure only these items are selected:

Click on the View menu again.
Click on Toolbars… and be sure

only

these checked items are selected. (Ignore Solid Inspector2. That is a third-party feature added to my SketchUp but is not part of this presentation.):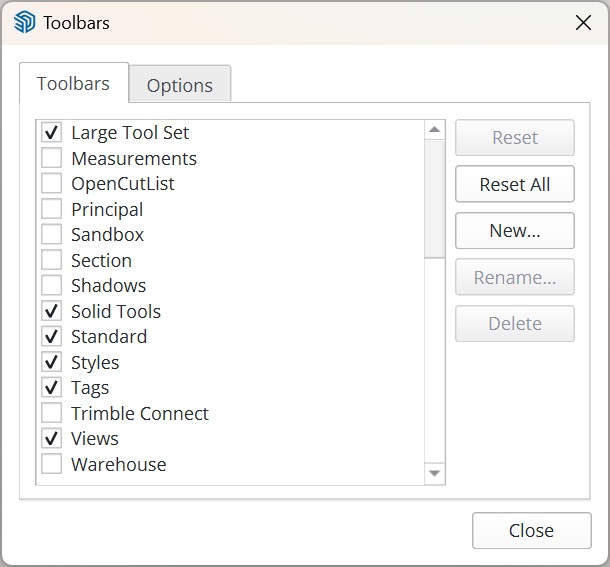 Click Close.
Be sure the toolbars are arranged as shown here. You can simply drag the drag bar of each toolbar to move it into position as shown here: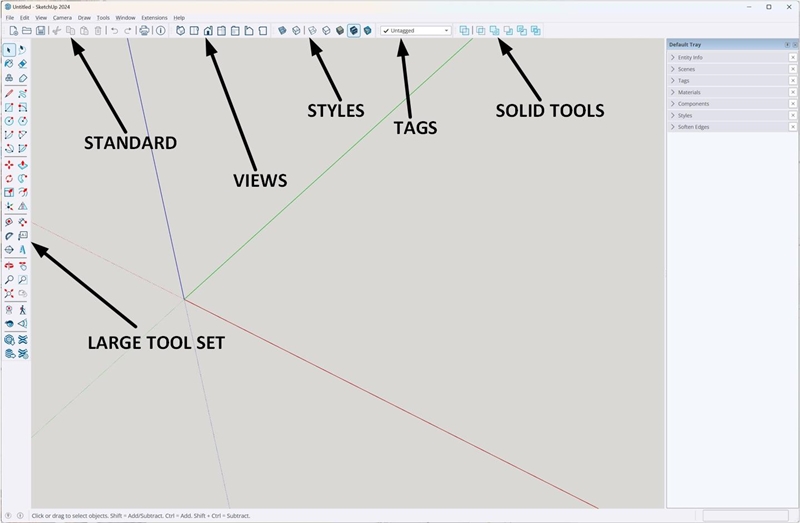 Finally, SketchUp has many built-in keyboard shortcuts. They're great time savers that you will want to use. But you'll be glad to have 5 additional keyboard shortcuts. Here's how to set them up.
Click the Window menu and select Preferences.
Select Shortcuts in the left window.
Scroll down the Function window and select Edit/Delete Guides.
Enter "N" (without the quotes) into the Add Shortcut window and then click "+" next to that window.
Scroll down the Function window and select Edit/Hide.
Enter "X" (without the quotes) into the Add Shortcut window and then click "+" next to that window. ("H" can't be used for "Hide" since it's assigned to "Pan".)
Scroll down the Function window and select Edit/Unhide/All.
Enter "U" (without the quotes) into the Add Shortcut window and then click "+" next to that window.
Select the next item down, Edit/Unhide/Last.
Enter "V" (without the quotes) into the Add Shortcut window and then click "+" next to that window.
Scroll down the Function window and select Tools/Dimensions.
Enter "D" (without the quotes) into the Add Shortcut window and then click "+" next to that window.
Click OK to close the Preferences window.
Steps 11-12 arm you with the ability to delete all of the guides. The shortcut lets you delete the guides without opening the Edit menu to do it.
Steps 13-14 arm you with the ability to hide an object by simply clicking on it and then pressing the X key. The shortcut lets you hide objects without opening the Edit menu to do it.
Steps 15-16 arm you with the ability unhide all hidden items by simply pressing the U key. The shortcut lets you unhide all objects without opening the Edit menu to do it.
Steps 17-18 arm you with the ability unhide the last hidden item (that is, not all of the hidden items) by simply pressing the V key. The shortcut lets you unhide the last hidden object without opening the Edit menu to do it.
Finally, steps 19-20 arm you with the ability to enable dimensioning by simply pressing the D key. You can avoid clicking on the Dimension icon in the Large Tool Set.
These shortcuts might not make much sense right now but TRY TO REMEMBER THESE SHORTCUTS. Write them down if necessary. Use them whenever possible to avoid going to a menu. They can make your SketchUp experience much simpler and much more enjoyable.
Complete List of All Keyboard Shortcuts
This is the list of ALL keyboard shortcuts. Each of the 5 additional keyboard shortcuts that you added using the above procedure is shown in brackets: [•]. You should copy this list and keep it handy to facilitate your design editing.
Arc
Paint Bucket
Circle
[Tools/Dimensions]
Eraser
Offset
Edit/Make Component
Pan
Line
Move
[Edit/Delete Guides]
Orbit
Push-Pull
Rotate
Rectangle
Tape Measure
[Edit/Unhide All]
[Edit/Unhide Last]
[Edit/Hide]
Zoom
SPACE BAR: "Select" arrow
Ready to Go!
You are now ready to begin using SketchUp. If you find out later that you don't like my preferred setup, the information provided above should give you enough knowledge to do things differently.
Starting to Use SketchUp
So how is SketchUp used? Here is a reference and link to get you started.
This was my introduction to SketchUp. I learned a lot from it and recommend it very highly. The DVD shows the beginner how to use many of the tools in SketchUp. And it explains how to use SketchUp in some very clever and useful ways. As an added bonus, it contains a Cheat Sheet of keyboard shortcuts. You will have a very solid grounding in SketchUp when you finish this 1 hour, 7 minute DVD. It's available from Amazon.com:
MY STRONG RECOMMENDATION: Begin with the DVD with Dave Richards. Watch and listen to the entire DVD. Follow along through the step-by-step lessons. You will amass a set of important and useful SketchUp skills. It will equip you to do original woodworking designs.
Use YouTube to Learn to use SketchUp Like an Expert
These are some links that you might find helpful. For beginners, you might try this
excellent series

from The SketchUp Essentials:
SketchUp Woodworking Tutorial for Beginners - Part 1
SketchUp Woodworking Tutorial for Beginners Part 2
---
Steve Ramsey makes YouTube videos primarily for beginning woodworkers. He has a video for SketchUp beginners that takes you from downloading SketchUp through building a project. It's an excellent introduction. He also includes a link to a free version of SketchUp Make 2017 that's worth investigating.
---
April Wilkerson is a clever, inventive, self-taught woodworker who has published many interesting YouTube woodworking videos. She has recently published a pair of videos aimed at the most basic SketchUp beginner. It's a good way to learn first things first. Take a look:
First Video: The Very Basics of Using SketchUp
Second Video: Familiarize Yourself with SketchUp by Drawing a Simple Table and a Simple Cabinet
---
Jay Bates is an accomplished woodworker who can be found on many YouTube woodworking videos. He sometimes creates videos that show his use of SketchUp. He talks a little fast but he does real things with his SketchUp designs, so what he does is of practical use. If you feel that you're getting past the beginner stage, take a look at a couple of his videos:
Here's a beginning SketchUp video from Jay Bates:
Familiarize Yourself With SketchUp
A simple table design by Jay Bates:
Notice his clever but simple techniques. He makes things even simpler by stressing "never draw what you can copy." He can talk fast, so pay attention. There's a lot of useful information in this single video:
SketchUp - Sofa Table With Hidden Storage
Here's a whole lot of SketchUp information from Jay Bates' website:
Jay provides a lot of general information here as well as links to his many YouTube SketchUp videos. He describes and uses only one custom keyboard shortcut (for Dimension) and also provides a list of his favorite built-in keyboard shortcuts. Note that 5 custom keyboard shortcuts were described above, so Jay's list of shortcuts might not be a complete reference for you.
---
Matthias Wandel is a very clever woodworker who has prepared a series of SketchUp YouTube tutorials for beginners. Take a look at this YouTube page with a list of those tutorials:
---
Advanced SketchUp Joinery Techniques from The SketchUp Essentials
The techniques discussed in these links are best suited to any woodworker who is already familiar with SketchUp and who just wants to polish his skills. Basic instructions from The SketchUp Essentials can be found at the beginning of this section. All of the links cited here are from a single video.
Conclusion
This page provides a foundation for getting, installing, setting up, and using SketchUp in your woodworking projects. There is a lot of other information and tutorials available on the internet. Be sure to search the internet and YouTube for more SketchUp hints and techniques.
Also, be sure to visit my SketchUp 'Cut List 4.1' Supplement page for an app that can help to make your SketchUp and woodworking experience even easier.
Good luck, and keep on using SketchUp!