This is a catch-all page that provides access to information related to this site that does not necessarily blend with the contents of the other pages found here.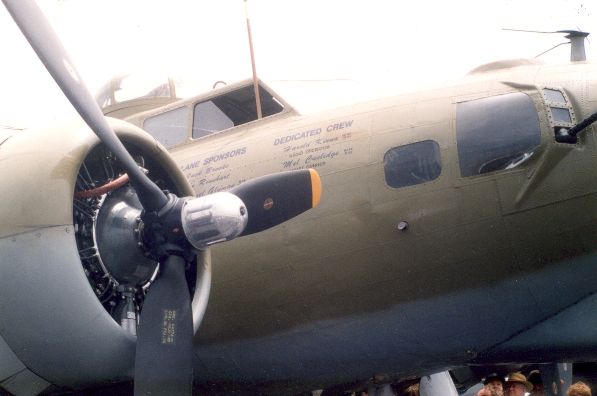 Did you ever consider the possibility that you could fly aboard a B-17? It's possible!
Experience the sights and sounds of a vintage B-17. Feel the rush as you begin the take-off roll as four 1200-horsepower engines go to full throttle. Try to imagine how it must have felt flying into combat over occupied Europe for the first time.
This is a once-in-a-lifetime adventure that you'll never forget. Here are two organizations that have refurbished B-17s that you can fly aboard:
Aluminum Overcast

of the EAA Aviation Foundation:
Yankee Lady

of the Yankee Air Museum:
A B-17 Was Destroyed in 2022
Sadly, one of the few still-flying B-17s was destroyed in a mid-air collision over Dallas Executive Airport on November 12, 2022. Multiple lives were lost. The collision happened during the Commemorative Air Force Wings Over Dallas air show when a P-63 Kingcobra struck the B-17 at about 1:20 p.m.
Follow-up News Story About 4 of the 6 Victims
99th Bomb Group Historical Society
The 99th BGHS was very helpful to me as I researched my dad's experiences in WWII. I don't think I could have succeeded without them. I urge you to learn more about this fine organization. If you have similar interests in a family member, and he was a member of the 99th Bomb Group in WWII, investigate this link. You will find contacts and other sources of information:
12th Air Force
The 99th was part of the 12th Air Force when it was based in North Africa.
Click on the patch for information about the 12th Air Force.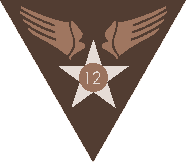 99th Bombardment Group (Heavy)
For information about the 99th Bomb Group (not the historical society) and its history, you can visit this site:
Surviving B-17s
A surprising number of B-17s are still flying. You can even get a ride aboard some of them! This site offers references to surviving B-17s, including some that still fly.
The Last Operational B-17
Piccadilly Lilly, AF4483684, was produced late in the War and never saw combat, but it remained operational in the US Air Force until the mid‑1950s. It's on display at the Planes of Fame Air Museum at Chino Airport in Chino, California.
Today
I am a retired Electrical Engineer with more than 35 years of experience covering a broad range of areas, including analog circuit design, digital circuit design, hardware systems design, software design, and algorithm design. I hold BSEE and MSEE degrees, a Professional Engineer license in the State of California, a General Radiotelephone Operator license, and a California Community College Instructor Credential (Life) in two subject matter areas. I am also a Life Senior Member of the Institute of Electrical and Electronic Engineers (IEEE).
In a Previous Life
From March of 1966 until October of 1969, I served in the U.S. Air Force where I was trained as an Aircraft Radio Repairman. After Tech School, I worked on F-105 Thunderchiefs and F‑4 Phantoms. The F‑105 and F‑4 were all‑weather fighter‑bombers and major players in the Vietnam War. From the beginning of the war, through 1969, the F‑105 dropped more tons of bombs on North Vietnam than the B‑52.
From October 1968 to October 1969, I was assigned to the 388th Avionics Maintenance Squadron of the 388th Tactical Fighter Wing at Korat Royal Thai Air Force Base, located near Korat (Nakhon Ratchasima), Thailand.