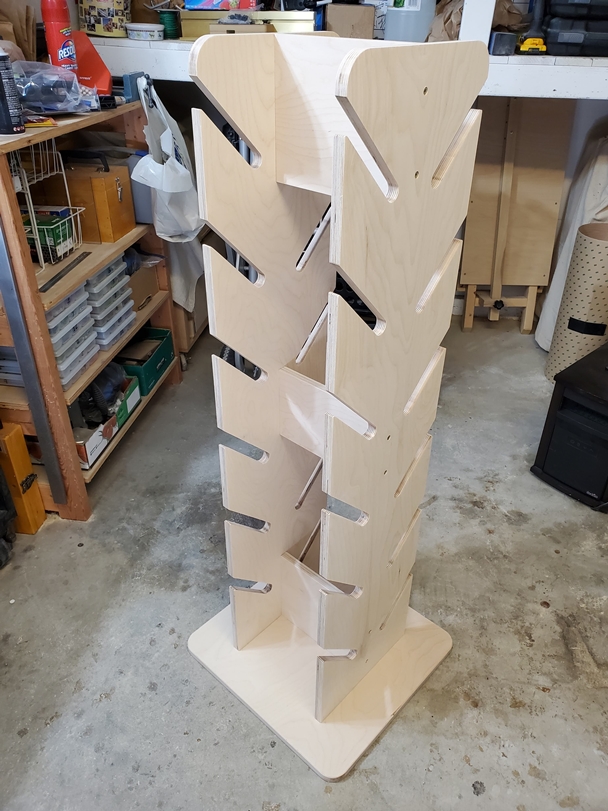 The Skateboard Rack is a great way to store up to 12 skateboards in a small footprint. It holds a variety of boards, both large and small. The Rack is made using 3/4" Baltic birch plywood, so it's sturdy.
Features
These are some of the features of the Skateboard Rack:
The whole assembly is about 50" high
The Base is 18" x 18 7/8"
The rack assembly is 12" from front to back and 10 7/8" from side to side
Each top corner of the rack and each corner of the Base has a radius of 1 1/2"
All 3 of the Stretchers are let into mortises that are cut 1/8" deep
The assembly is held together with #10x2" flathead construction screws, 17 of them
Material: 3/4" Baltic birch plywood. Baltic birch is flat, uniform, has very few voids, and it's stable. But, of course, there are other types of plywood that you can use.
Glue: None
Finish: The rack should be painted to extend its life, secure possible splinters, and give it a nice look
Download Free Plans, Pictures, and Instructions
The ZIP file contains all of the pictures, INSTRUCTIONS.PDF file, SketchUp design file "Skateboard_Rack_11_SKETCHUP_VERSION_8.skp", and PDF design file "Skateboard_Rack_11_SKETCHUP_VERSION_8.pdf". BE SURE TO READ THE "INSTRUCTIONS.PDF" FILE that's included in the ZIP file.